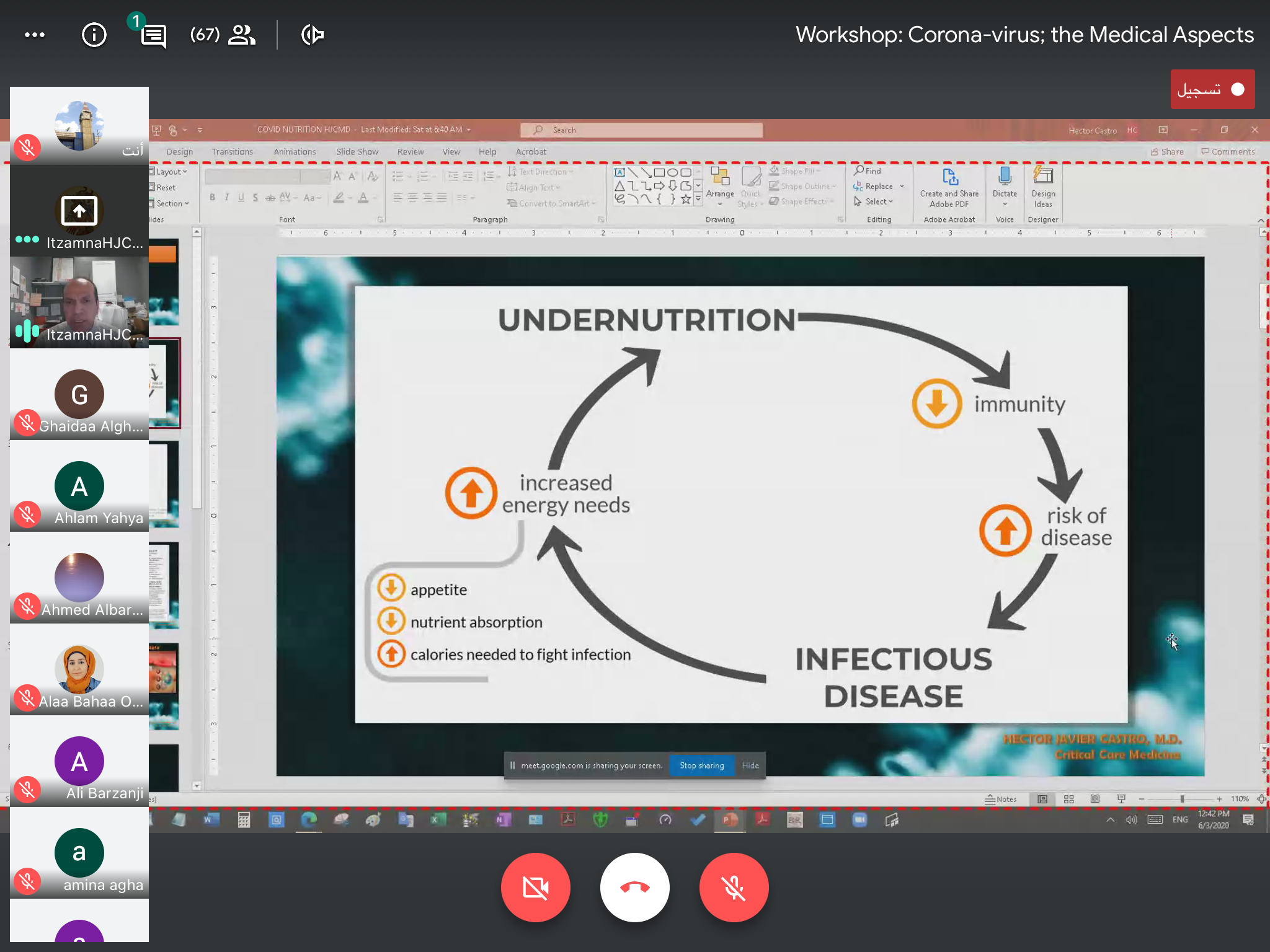 Department of Law at Bayan University Organized the second online international workshop on  coronavirus entitled (Coronavirus; the Medical Aspects) which was conducted through google hangouts meets on Wednesday, 03rd June 2020.
The workshop started with a speech delivered by the president of the university (Dr. Fuad Mawlood Shareef) in which he welcomed all the attendees and showed his appreciation for the keynote speakers, the head of Law department for supervising the workshop sessions.
The content of the workshop was delivered by four well-known researchers (Professors and Physicians) as follow:
1- Professor Munther Alkadhimi (Kings College, London – UK) who presented a research entitled "Corona Behavior in UK"
2- Dr. Moammad Altai (Medical Center, New York – USA) whose research was about "Covid 19; New York Xeperience"
3- Dr. Hector Castro (Julliard College, New York, USA) whose research was entitled "Covid-19 and Nutritional State, an Overview"
4- Dr. Ali Al-Barzanji (Lecturer in Kurdistanian Noard for Medical Specialties) who presented a research entitled "Pneumonia in Pregnancy with Covid-19"
 
More than 80 academics, physicians, university senior executives and Health Officials from various countries attended the workshop; the participants actively engaged with the topics through detailed discussions and raising different questions on COVID-19 which were answered by the researchers.
The workshop lasted for three hours (‪from 6:00 to 9:00 PM Baghdad time‬) and it was ended by a concluding speech that was delivered by the president through which he thanked all the attendees and extended his gratitude for the presenters and organizers of the workshop.
The workshop organisers assured the participants that they will be awarded Bayan University "Workshop Participation Certificate" electronically.