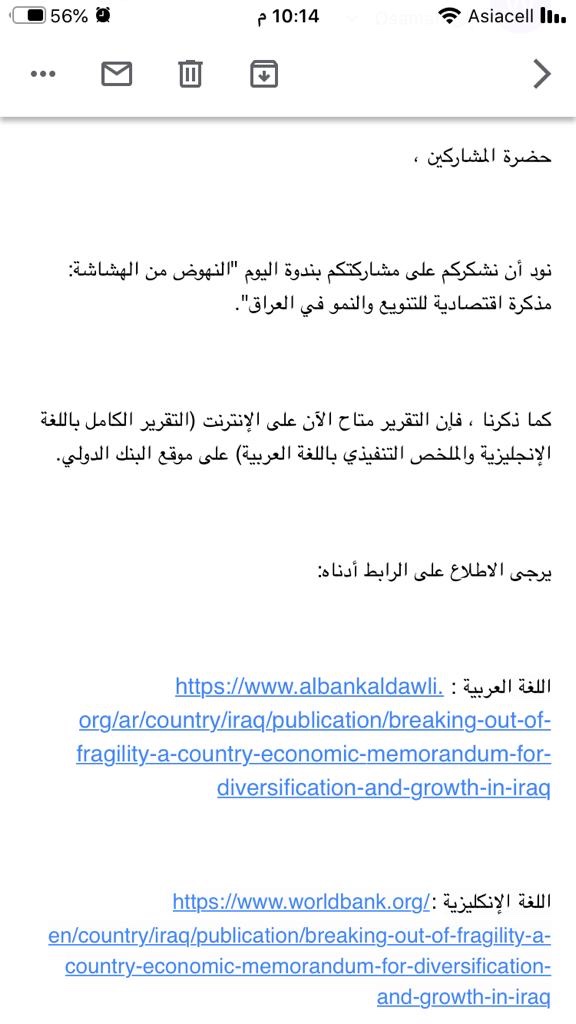 Based on the invitation of the World Bank, Dr. Mohamed Ahmed Ramadan, Assistant President of Our University for Administration and Student Affairs, attended the agency of the international symposium held by the World Bank, on Wednesday 9/30/2020, via the Internet and through the zoom platform, entitled (Breaking out of Fragility: A Country Economic Memorandum for Diversification and Growth in Iraq)
The symposium began with two opening speeches by Dr. Ali Allawi, the Iraqi Minister of Finance, and Mr. Saruj Kumar Jha, the Regional Director of the World Bank for the Levant, then two sessions began, the first was devoted to the agricultural sector, while the second was devoted to trade policies. The symposium, which was attended by about 100 people, witnessed the presentation of valuable research in both Arabic and English by senior Iraqi and international economic experts, which included accurate analyzes of the prepared economic memorandum. The economic prepared by the World Bank, which confirmed that Iraq is witnessing in the current year 2020 the worst performance of growth in the annual gross domestic product (GPD). The memorandum represented the state of vulnerability that Iraq has been stuck in Hull since 2003 with increasing political instability, escalating social unrest, and an increasing gap between the state and the citizen, The memo attributed all this to a number of crises in Iraq, including the decline in oil prices, the Corona pandemic, recent popular protests, the accumulation of effects of weak economic policies, the absence of reforms and the inability to address corruption. The World Bank's economic note indicated that instability, lack of job opportunities, corruption, and poor service delivery are among the most important risks surrounding long-term growth in Iraq.
The attendees of this symposium, which lasted about 4 hours, received a letter of thanks from the World Bank for attending this international electronic symposium.