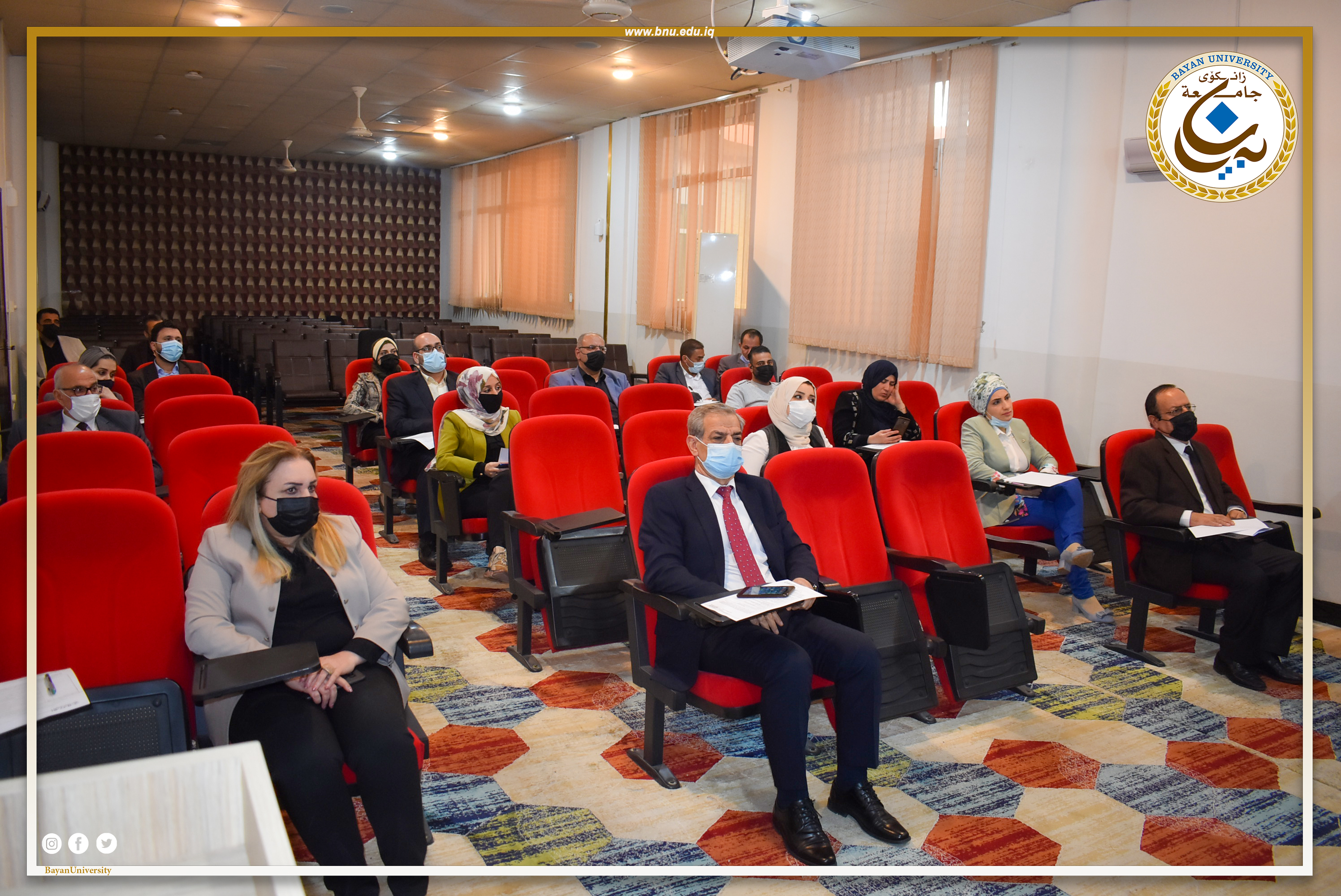 (Under the auspices of Bayan University President (Assistant Professor Doctor Fouad Mouloud Sharif), Bayan Workshop University organized under the title "Water War: Ethiopian Renaissance Dam Model" in the presence of the President of the University (Assistant professor doctor Fouad Mouloud Sharif) Assistant Rector for Administrative Affairs and Students (Dr. Mohammed Ahmed Ramadan), Assistant President for Scientific Affairs (Dr. Benkin Masihou Odel) and deans and a number of teaching staff from within the university, and in this context held on Monday, April 5, 2021 at the Nowruz Hall at Bayan Seminar University, which was presented by (Mr. Nazir Mahmoud Amin: Teaching in the Department of International Relations and Diplomacy at Bayan University. He spoke more about the Ethiopian Renaissance Dam, formerly known as the Millennium Dam, located in the Panchenkul region, 15 km (9 miles) east of the Ethiopian-Sudanese border, which began operating in 2011 and is under construction. The dam is expected to be the largest hydropower plant with a value of 6.45 GW in Africa and the seventh largest in the world 
The reservoir started in 2020 and takes 5 to 15 years depending on hydrological conditions during the filling period and agreements between Egypt, Ethiopia and Sudan.
Mr. Nazir also said that in 2012, a U.S. intelligence report based on a secret NATIONAL Intelligence Agency investigation into water security commissioned by then-Secretary of State Hillary Clinton indicated that after 2022, droughts, floods and freshwater access would increase the likelihood of water being used as a weapon of pressure, war or as a tool of terrorism. The factors of increase troubled world population worsening the world's water crisis. 
Seminar ended with constructive interventions by the audience and The President of the University (Dr. Fouad Mouloud Sharif) thanked and praised the organizers of the workshop with the distribution of appreciation to researchers and attendees