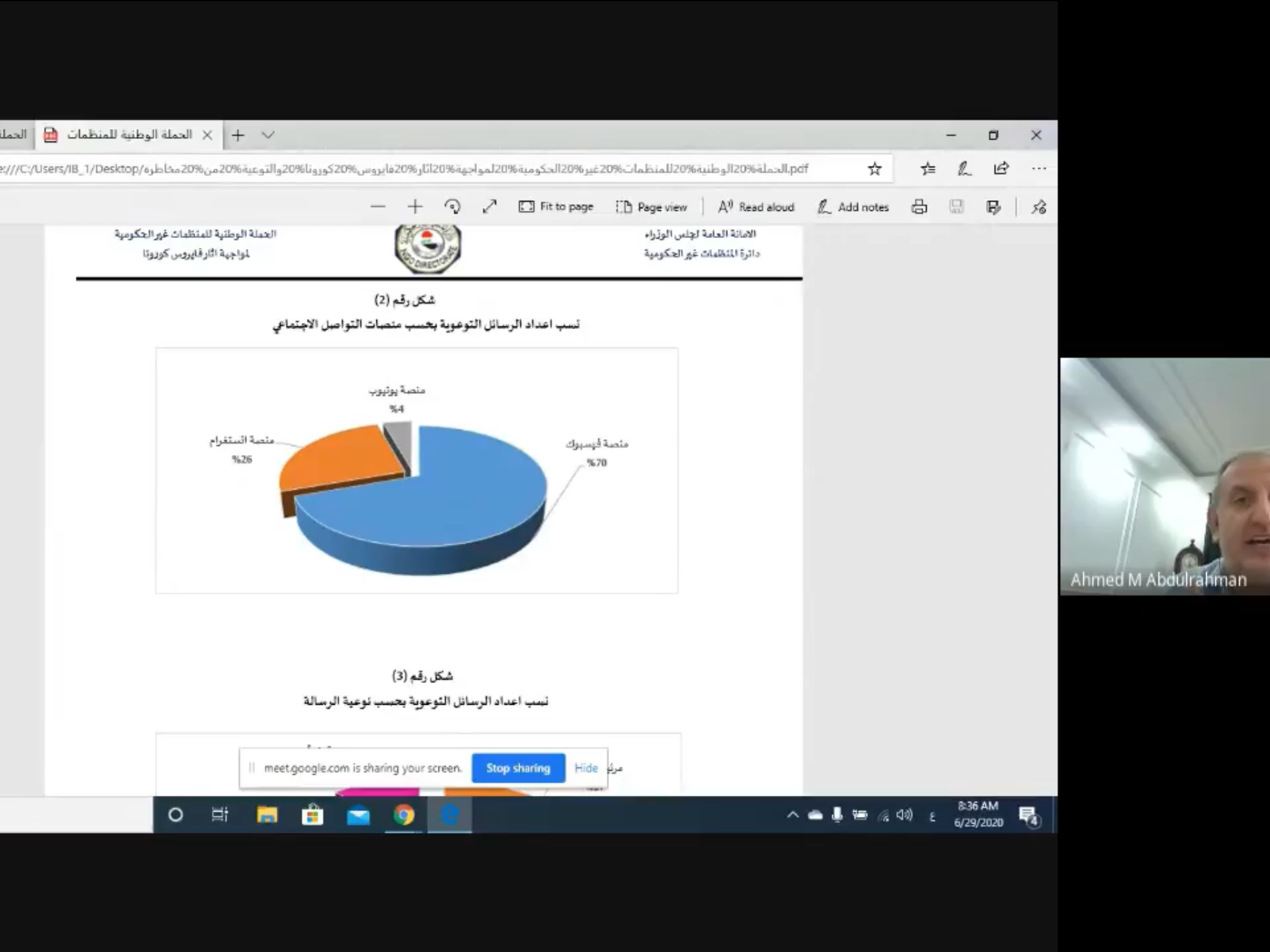 Department of Law at Bayan
University Organized the fourth online international workshop on  coronavirus entitled (Coronavirus; the role of Non-Governmental Organizations "NGOs"
and Attorney General in the period of coronavirus pandemic)which was conducted Jointly with the Swedish Iraqi Studies Network (SISNET), Lund University,Sweden (Lund University was founded in 1666 AD and is ranked among world's top 100 universities )
The workshop ran through google hangouts meets on Monday 29thJune 2020.
The workshop started with a speech delivered by the president of the university (Dr. Fuad Mawlood Shareef) in which he welcomed all the attendees and showed his appreciation for the keynote speakers, the head of Law department,Bayan University Dr.Mohammad Ahmad Ramadan, and Dr.Nabeel Al-Aobaidy chairman of democracy and human rights committee in The Swedish Iraqi Studies Network(SISNET)Lund University, Sweden for supervising the workshop sessions.
The researches was delivered in the  workshop by sellected researchers (Three Academics and a Judge ) as followes:
1- Dr. Ahmed Miran (A part-time lecturer in College  of Law, International Relations and Diplomacy, Bayan University, Erbil, Iraqi-Kurdistan) research entitled: civil society organizations and its role in confronting coronavirus pandemic in Kurdistan Region. 
2-Sarra Horriche (Academic Researcher, College of Law and Political Sciences, University of Susse, Tunisia) research entitled: The role of NGOs in confronting coronavirus pandemic. 
3- Dr.Nassik Taha (An Attorney General Judge in Attorney General Presidency, a part time lecturer in Bayan University,Erbil, Kurdistan Region). research entitled: The role of Attorney General in confronting the consequences of coronavirus pandemic.
4-Hana Yacoub ( Lecturer, College of Law and Political Sciences, University of Susse, Tanisia)research entitled: The role of Attorney General in confronting coronavirus 
His Excellency Dr. Abdul Salam Al-Hayali, Chairman of Bayan University Board of Trustees, and Dr. Hussam Al-Din Al-Hayali, Vice-Chairman of the Workshops Trust, attended the event.
The workshop was attended by 100 personalities between a university professor,juridical, lawyer and a civil activist from the Kurdistan Region and the rest of Iraq and from Arab and foreign countries who registered their presence in the electronic registration form which distributed through the workshop in addition to another number of attendees who did not register their names in the mentioned form for one reason or another.
The workshop included in-depth and detailed discussions, to which the lecturers answered accurately and frankly, and the workshop lasted two hours.
The researchers and attendees will be given electronic certificates of appreciation at the workshop.
At the end of the workshop, Dr. Mohamed Ahmed Ramadan, the supervisor of the workshop, presented a summary of opinions, conclusions and recommendations about all what had been mentioned in the workshop 
The workshop concluded with a word of thanks and appreciation from the President of Bayan University.
Below is the full video of the workshop
 
الحضور الكرام لاستلام شهادات الحضور الخاصة بكم الرجاء الضغط على الرابط