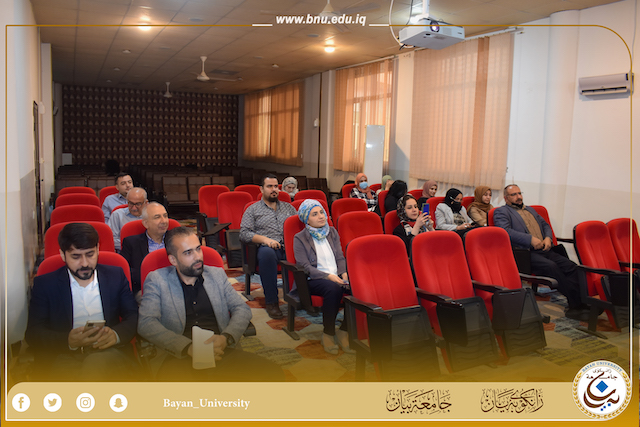 A seminar was presented by an assistant teacher (Mustafa Rashid Issa), a lecturer assistant in the Law Department entitled (The Multiple Nationality between the Spiritual Contract and the Legal Contract in the Framework of Iraqi Law and International Conventions) in Nowruz Hall on Monday 4/4/2022 at 12:30 in the presence of a number of From the lecturers and students, the topic revolved around the fact that polygamy is in conflict with the ideal concepts sought by international law. The matter may not stop at this point, but any polygamy and duplication may clash with international morals, which is known in French (La moral International) and in English (International morality). Nationality is described as a translation of the love that an individual has towards his homeland, but more than that, it is an integral part of an individual's legal existence. The Hague Convention of 1930 in Article (3)
Which emphasized that if a person has the nationality of two or more countries, then each of these countries can consider him one of its citizens. In this context, we can mention the problems arising from dual nationality, some of which relate to his legal status and others to the legal system to which he is subject.
υ in the Iraqi constitution: -
υ The Permanent Constitution of the Republic of Iraq of 2005 permitted dual citizenship by an explicit and unambiguous text, in Clause (Fourth) of Article (18) which stipulates the following:
υ ((It is permissible for an Iraqi to have multiple nationalities....)). The new enforceable Nationality Law No. 26 of 2006 traced its effect to Clause (First) of Article 10, which stipulated the following:
υ ((An Iraqi who acquires a foreign nationality shall retain his Iraqi nationality, unless he declares in writing that he has renounced his Iraqi nationality)).